Note: the links to each lesson is right below the video.
Welcome to the Become a Piano Superhuman Training…
I want to do everything in my power to help you succeed. Help you take your piano game to that next level.
Over 2,000 20,000 40,000 people have taken this course. And I have constantly been tweaking it, taking lessons in and out, and responding to feedback to make this course as in-depth and helpful as possible.
I want you to promise me TWO things right now to help you succeed.
1.  Watch the ENTIRE Course Overview video below. It's important you understand how the course is organized and how to get the most out of it.
2. I want you to commit to watching at least one lesson every day for the next 7 days. And sit down at the piano and try it out. Even if you only watch ONE lesson a day, and put it into practice, I know you'll get results.
Important: If you use a calendar, find a time every day for the next week (the same time every day if possible). Put in your practice time. Then set an alert to come up on your phone (if you have that capability) and COMMIT to these next 7 days. This step alone can boost your likelyhood of improvement greatly.
Are you ready? Lets get started…
Note: Scroll to the bottom of this page for the complete "table of contents" of lessons.
Course Overview: Please Watch This Entire Video!
[PSH] Course List of Lessons
Beginner's Lessons
2. Learning Piano: The Complete Overview
3. The Names of the Notes
4. Hands Together Coordination
5. 3-Step Sight-reading Process
Technique Fundamentals
6. Technique Overview
7. Scales Made Easy
8. The Finger Gauntlet
9. Advanced Technique Training Plan
Captivate Techniques
10. Captivate Techniques Overview
11. The "Secret Sause" Left Hand Pattern
12. Arpeggio Sweeping
13. Building a Song From Scratch
Accelerated Learning Techniques
14. Accelerated Learning Overview
15. The Ultimate Goal Setting Process
16. Rhythm Strategies
17. Metronome Strategies
Playing By Ear
18. Learning Play By Ear: Overview
19. The First 3 Notes
20. Intervals Mastery Part 1
21. Learning the Left Hand by Ear
Click here to change your Username or Password.
Commonly Used PDF's
There are more PDF's within the course itself, but here are a few of the most commonly used ones:
Major Chords Cheat Sheet
Minor Chords Cheat Sheet
Major Scale Fingerings
Harmonic Minor Scale Fingerings
Become a Piano Superhuman Training Plan PDF
My Credentials:
If you're thinking "Who is this random dude and what makes him think he can teach piano!".Well, here are my credentials, I'll let you decide for yourself!
Note: I'm not trying to brag about this stuff. I just want you to be confident that I know what I'm talking about so you can trust these lessons will help you.
1. Amazon Bestselling Author of the book "Lightning Fast Piano Scales"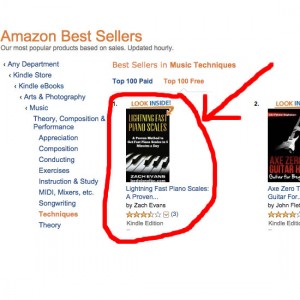 2. Music Degree from the University of Wisconsin Oshkosh, where I took 4 years of lessons from Eli Kalman (this guy's played at Carnegie Hall! Not only the best piano teacher I've had, but truly one of the best mentors in life I've had).
3. Over 100 piano videos up on YouTube (and over 9,000 subscribers!). Click here to watch me play. I do pop covers, collaborations, classical, and some… weird ones 😉
Here's a quick example. Some of the runs I do in this video I'll teach you in the "Arpeggio Sweeping" lesson in this course!
4. Taught students piano both in-person and online
5. Played in multiple Jazz bands
6. Played piano at church, both hymns and on a worship team
7. Played shows with singers, both in a band and with solo singers
8. Played background music at a Movie Theater, Christmas Party, Ceremonies, and more.
9. Run an Instagram account with over 18,000 followers (so it's not just my Mom who likes my music XD. @zachevansmusic
Next Step:
Alright, time to start going through some of the lessons. I'd highly suggest starting out with the 1st lesson in the Beginner's course, even if you're not a beginner (just click the "next lesson" link at the bottom of this page to go there.) It'll just give you a good overview on the complete process to learn piano.
After that, go through the lessons that are most interesting to you. If you're really excited about learning crazy fast arpeggio runs, start with the captivate lessons. If you're really excited about methods to learning music FAST, start with the Accelerated Learning Techniques.
If you just want to learn everything, I'd go in order. The order is intentional, it'll be easiest to learn them that way.
Oh and remember, if you want to get one of the Premium courses, you have 7 days to get your 50% off! Click Here to go to the Bonuses section of the course and go through the 50% off link to get your course.
One last thing I want to leave you with. Watching these lessons are great. But at the end of the day, they won't do anything unless you take action and put them into practice!
I know you already know that, but I believe it's my job not only to teach you the skills on piano, but to do everything in my power to keep you motivated  into consistant practice. I'm hoping the 7 daily emails will help out with that. But at the end of the day, the power is in your hands. I believe in you!
See you in the next lesson,
-Zach
I have been using your strategies with myself and my students WOW everyone is learning at Mock 100 thank you!!!

-Sherry S, [PSH] Member #2174